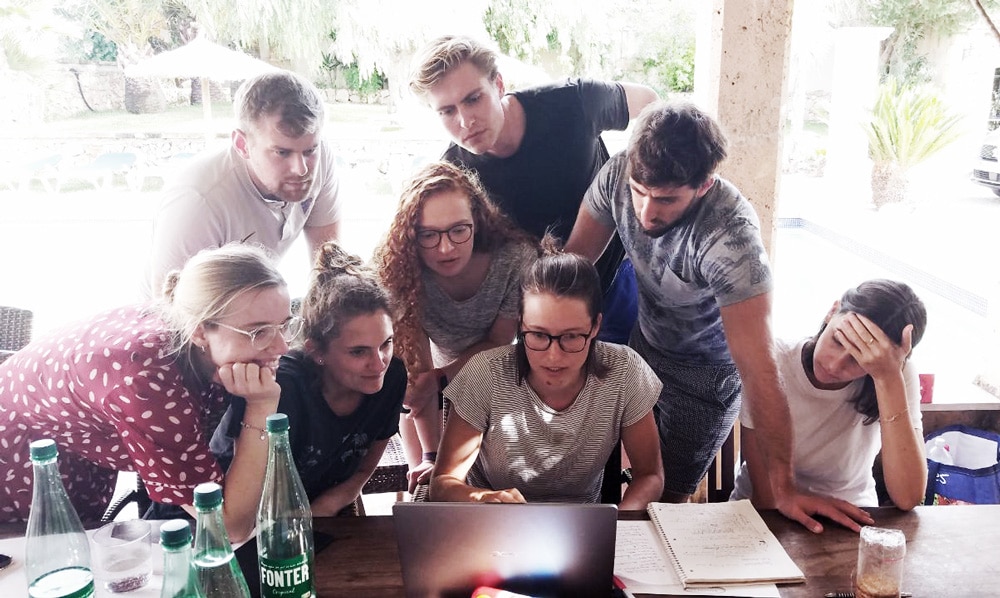 "Somehow my connection is broken today… not"
Almost 900 kilometers away from the Berlin office, I started my work at Erste Lesung in June 2021 thanks to Corona and home office. How can I get in touch with colleagues, clients, and the projects I'm working on? At once the greatest challenge and the greatest success, creating connections between people and topics has become the leitmotif of my time at Erste Lesung; perhaps also because it is at the core of the company's philosophy.
Connections not only of an electronic nature
Especially as a newcomer, connections with colleagues are crucial to the success of one's work. You learn from them and exchange ideas about projects, corporate culture and political events. Via Zoom, Telegram and the like, this exchange is, well, just two-dimensional. Despite these challenges, Erste Lesung manages to create these connections, which are so important for collaboration, through a wide variety of formats. For example, the one-on-one "induction calls" that begin each "Ersti"-Journey offer the opportunity to speak with everyone for at least half an hour outside of the specific work context. This lowers the inhibition threshold to simply pick up the phone when questions arise. A regular exchange of ideas can therefore also take place over a distance of so many kilometers. In this way, connections have been built up – even via Zoom and Telegram – that are strong from the work to the interpersonal level. This is demonstrated by the responsibility delegated to me by colleagues, as well as the coffee we meet for outside of business hours.
Close connections as the basis of holistic consulting
However, for the work as a consultant, the connections to clients are also important, because cooperative projects can only be successful if they are maintained and defined by trust. How Erste Lesung builds connections with its clients inspired me from the very beginning. The words of a senior consultant at the start of my internship often resonate with me: "Others have expertise, too, but with us there's fun to go with it." By fun, of course, I mean a special focus on the interpersonal relationship with clients, and on enthusiasm for one's own work. It is only when this spark is ignited that it becomes possible to provide holistic counsel, allowing assessments and recommendations to be implemented. Erste Lesung has also found unconventional ways to maintain this connection, such as communicating via voice messages. From the very beginning, Erste Lesung involved me in this very privileged connection between consultants and clients, so that I could independently interact with the respective partners – and make my own connections.
Synergetic connections in multi-level political systems
Last but not least, there are also connections at the substantive and political level. Although Erste Lesung has offices in Brussels and Berlin, the content of every consultation in the multi-level system of the European Union is consistently thought of on both levels and beyond, e.g. when it comes to transatlantic or global political developments. The fact that staff members in Oslo, Berlin, Hamburg, Brussels, Paris or Vienna work together on projects ensures that all political and geographical connections are taken into account. With a wide variety of political and professional backgrounds, Erste Lesung's consultants continue to think business, civil society, and politics in a network and to build synergistic connections where one might not have suspected them before.
And so, despite my own permanent distance, I have been able to build connections – between people and issues. However, I am particularly looking forward to the future "French Connection" through a Erste Lesung office in Paris, where I have lived and studied for over four years.
---
Nina Regenhardt joined Erste Lesung in June 2021