Brussels or Berlin? The Main Thing is Politics!
Where do you start as a German student of politics who is not sufficiently enthusiastic about either local politics or the great wide world? For most people, the choice is between Berlin and Brussels. For me, it was Berlin when I started work in January 2021. Today I can say: Berlin, but somehow also Brussels. Unusual? Not for us. Thinking national and European affairs together is part of the DNA of Erste Lesung. And so, although I started out in Berlin, I was from the very beginning involved with digital policy on the European level. Informal information was passed on to me by experienced colleagues and our company's own remise (a small house behind our Brussels office) allowed me to spend several days in Brussels, most recently for almost two weeks. This way, European and German politics are not only tackled together at Erste Lesung, but also experienced together. The time in Brussels is something special; contacts and meetings, which in Berlin would be spread over several weeks, are consciously perceived and cultivated.
Of course, there are advantages in focusing– at least temporarily – on one of the arenas and also living there: One's own network can be built up more easily, the mood towards political projects can be assessed more accurately and the topics are present across the board. But nevertheless – in my experience – current political questions and debates are still more comprehensively noticed in the simultaneous treatment and simultaneous experience of European and German politics. Moreover, the internal, institutional or sociological logics become more sharply apparent in contrast to each other: A majority in parliament that basically supports the government's legislative projects? The usual opposition between government and opposition factions? Not so at the European level. Instead, the Parliament takes a fundamentally critical view of the Commission's proposals, and national sensitivities play an important role instead of factionalism. As in Germany, parliamentary work in Brussels takes place primarily in the committees. The (often) most important actors? The relevant rapporteurs, that is, MEPs responsible for the dossier. They have a knowledge advantage over their colleagues when it comes to the usually complex European dossiers. What does that mean for public affairs work? For example, maintaining very good relations with rapporteurs and shadow rapporteurs, involving committee secretariats and being fundamentally skeptical when supporting Commission proposals. Thinking along national interests and seeking allies across all (democratic and relevant) political groups.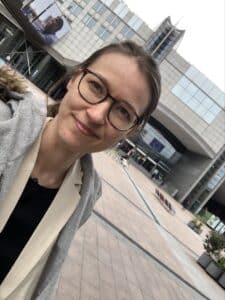 And the Brussels political scene is also different from Berlin: The radius is smaller, the backgrounds more diverse, many young employees are drawn to Brussels for the job – work and private life mix accordingly. As a former Erasmus student, the atmosphere is somewhat reminiscent of my time in Bologna, except that most people are now five to ten years older, have more money, more work and less time for parties. As expected, Italians and Spaniards don't arrive for drinks until around 10:00 pm, while the Germans and English have already been there since 7:00 pm. When it comes to lunch, this works out well; here, different time preferences ensure fewer waiting times than at the hot spots in Berlin Mitte at 12:30. All clichés? Sure.
Brussels or Berlin? Preferably both. The Erste Lesung approach of naturally thinking and working on both arenas together offers great advantages for all sides: For our clients, who get all the information they need from a single source. And especially for us employees, who thus have the opportunity to get to know both worlds and are trained from the outset to think the two centers together. In the meantime, Paris has been added to Erste Lesung's offices in Berlin and Brussels. Thanks to our colleagues on the ground, we can now gain important insights into French politics and are constantly reminded that politics in Europe can only really be fully and completely understood by looking through different lenses. My time in Brussels has left me wanting more. And so I hope that the development at Erste Lesung of thinking about politics in more than just national terms will continue consistently. The stays of some colleagues in the United States point in this direction. And I can personally well imagine being "based in Brussels" one day, like my colleague Mats, for example – and accompanying both German and European politics.
---
Carolin Körner has been working for Erste Lesung since January 2021. Mostly in Berlin, but since Corona allows it again also in Brussels.